André Vecsei
1926-2006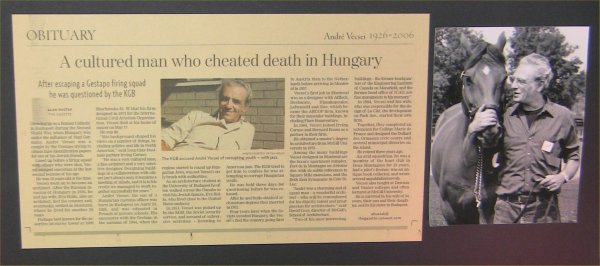 Montreal architect André Vecsei wrote this story during long sleepless nights. His abiding insomnia was brought on by ever-present memories of his Hungarian past, including imprisonment by the Gestapo and later by the AVO, the Hungarian KGB. From these experiences, he learned that life is never solely tragic nor comic; as in the Greek theatre mask, grief and laughter are always and forever omnipresent.
ALAN HUSTAK, The Gazette
Sunday, June 04, 2006
Growing up as a Roman Catholic in Budapest during the Second World War, when Hungary was under the influence of Nazi Germany, Andre Vecsei was a caught by the Gestapo trying to obtain false identification papers for one of his Jewish friends. Lined up before a firing squad with others who were shot, Vecsei escaped execution at the last second because of his age. He was 18 years old at the time.
Vecsei went on to become an architect. After the Russian invasion of Hungary in 1956, he and his wife, Eva Hollo, also an architect, fled the country and, eventually, settled in Montreal, where he lived for another 50 years. Perhaps best known for the assertive 26-storey tower at 1000 Sherbrooke St. W. that his firm designed in 1971 for the International Civil Aviation Organization, Vecsei died at his home of cancer on May 17. He was 80.
"His background shaped his views on a number of things, including politics and life in North America," said long-time business partner Irving Caruso.
"He was a very cultured man, a fine architect and a very sensitive designer. Designing buildings in a collaboration with others isn't always easy, it requires a meeting of minds, and it is to his credit we managed to work together successfully for years."
Andre Vecsei, the son of a Hungarian customs officer was born in Budapest on April 25, 1926, and was educated in French at private schools. His encounter with the Gestapo in the autumn of 1944, when the regime started to round up Hungarian Jews, was not Vecsei's only brush with authorities. As an architecture student at the University of Budapest he often walked across the Danube to visit his Jewish fiancee, Eva Hollo, who lived close to the United States embassy.
In 1951, Vecsei was picked up by the KGB, the Soviet security service, and accused of subversive activities – listening to American jazz. The KGB tried to get him to confess he was attempting to corrupt Hungarian youth. He was held three days for questioning before he was released. After he and Hollo obtained architecture degrees they married in 1952. Four years later when the Soviets invaded Hungary, the Vecsei's fled the country, going first to Austria then to the Netherlands before arriving in Montreal in 1957.
Vecsei's first job in Montreal was as a designer with Affleck, Desbarats, Dimakopoulos, Lebensold and Sise, which became the ARCOP firm, known for their muscular buildings, including Place Bonaventure.
In 1964, Vecsei joined Irving Caruso and Bernard Rosen as a partner in their firm. He obtained a master's degree in architecture from McGill University in 1973. Among the many buildings Vecsei designed in Montreal are the luxury apartment complex, Fort de la Montagne on Atwater Ave. with its subtle references to Square Mile mansions, and the Beth Zion Synagogue in Cote St. Luc.
"Andre was a charming and elegant man – a wonderful architect – who will be remembered for his dignity, talent and great passion for architecture," said David Covo, director of McGill's School of Architecture.
"Two of his most interesting buildings – the former headquarters of the Engineering Institute of Canada on Mansfield, and the former head office of ICAO, are fine monuments to his memory."
In 1984, Vecsei and his wife, who was responsible for the design of La Cite, the development on Park Ave., started their own firm. Together, they completed an extension for College Marie de France and designed the Dollard des Ormeaux civic centre and several municipal libraries on the island. He retired three years ago.
An avid equestrian, he was a member of the hunt club in Deux Montagnes for 25 years, had a pilot's license, was an antique book collector, and wrote several unpublished novels. Vecsei also taught at Dawson and Vanier colleges and often lectured at McGill University. He is survived by his wife of 54 years, their son and their daughter, and by his sister in Budapest.
ahustak@thegazette.canwest.com
© The Gazette (Montreal) 2006